The history of Jesuit High School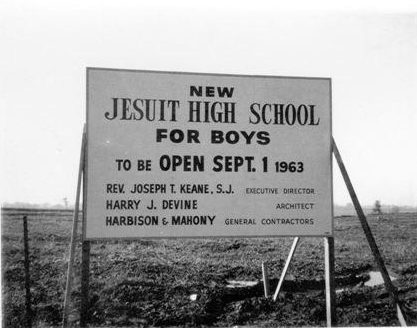 Jesuit High School is located at 1200 Jacob Ln, Carmichael, CA. Jesuit was founded by Bishop Josef McGucken. In January of 1961, the Society of Jesus purchased 21 acres of land. The original school was constructed by the contracting company of Harbison and Mahoney. 
On September 17, 1963 Jesuit High School was opened. The original Freshman class had only 93 students. The first principal of the school was Fr. Jack Geiszel, S.J., and the first Superior and President was Joseph Keane, S.J. Jesuit has increased in popularity from its original population of 93 to the current number of students that attend: 1,050. The facility also had many improvements since it opened. After making these installments to the school, the Building for the Future Campaign raised more than $20 million since 2003, but it didn't stop there.  
In 1966, the school's grounds were expanded to include room for the gymnasium and theater complex. However, in 1973, the school almost closed because of issues with money. This issue was solved in 1974 because "The Board Of Trustees" was created by James Carr to help manage the school. In 1978-1979, the school funded a new library addition.  Also in this year, Jesuit created a program to help Families that did not have enough money to send their sons to Jesuit. 1n 1986, a new competitive swimming facility was constructed. In 1992, a lot of additions were made to the school, which included a new mathematics and life sciences classroom. Construction of the Fr. Harris, S.J., Student Life Center that includes a cafeteria, a theater, and a music rehearsal and performance space was completed in the fall of 2000. Over the summer of 2003, a new building called Alumni Hall was finished. This new building consisted of 5 rooms and was built next to the gymnasium. A solar field was built in 2012, which provides about 50% of the schools power.  This helped cut energy costs and make the school a greener place. 
New classrooms are being constructed all of the time. Right now, the old locker rooms are being changed into three new state of the art classrooms. Also, a new lab is being created right now for the Science Olympiad and robotics teams. New synthetic fields have just been constructed for Football, Soccer, Lacrosse, Rugby and Track & Field. Jesuit is blessed to have made it this far, and we believe the school will keep growing and improving.