Freshman team coach lays groundwork for next three years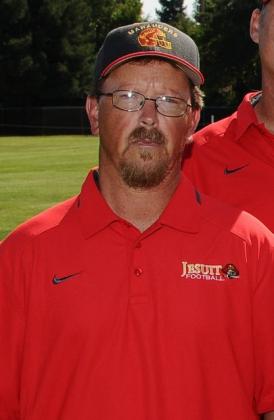 The Jesuit High School freshman football team beat all of their opponents last year in league play. With the undefeated status, young players have better confidence and preparation for the next three years to come.
"We have a lot of young men who have really grown into leaders," said Coach Phil Nuxoll. "Last year's juniors know that they are playing as senior leaders."
Coach Nuxoll has worked at Jesuit for 29 years, and he has high expectations for this season. Fortunately, the Jesuit coaching staff already knows how to prepare players to be on their best game. During practice, players will do snake work for offense, a drill were they learn how to find the gaps in the opposite team's defense to score a touchdown. And on defense, the team will work on tackling drills.
Last year, their main strategy on offense was to run with the ball to control the clock and open up the offense for the pass.
"If the defense knows they can stop our opponent and give us good field positions, then we have confidence that the offense will score," said Coach Nuxoll.
If freshman players follow Coach Nuxoll's instructions and work hard on top of that, then they will be set, not only for their first season at Jesuit, but for the rest of the time they play football.