Bonding through basketball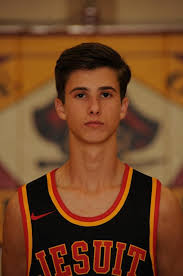 Casey Gilles '18 has played basketball for 13 years, but this school year, 2017-2018, was special. It would be his last season at Jesuit. Over his four years at Jesuit High School, though Casey cherishes the competition he's faced, he cherishes his teammates even more.
"One of the guys on our team had a cabin in Tahoe, so we would go up there for weekends, during tournaments," said Casey. "We would all go out to dinner together and have a fun time."
Because of great team chemistry, Casey chose to play all four seasons at Jesuit. He grew up liking basketball anyways and liked to compare his game to Dwyane Wade, though knows he would've had to work hard.
"Obviously, I want to improve my game everyday . . . keep working in the gym, getting better," said Casey.
During the season, the coach focused more on passing and cooperation so that Casey and his teammates could improve their game.
"I'd say Jesuit is probably like the Spurs because the coach emphasized team play and passing," said Casey.
Even with all of their hard work, the Jesuit varsity team still couldn't beat Archbishop Mitty High School, who they eventually lost to during the playoffs in the Bay Area.
"Archbishop Mitty were very athletic and always scrapping for the ball," said Casey.
Even though the team lost, Casey still had a good time with his teammates and learned to work hard, which payed off in the end as he takes his new skills and memories from basketball to college.