Opinion: Beckham Jr. is (almost) the best wide receiver in the league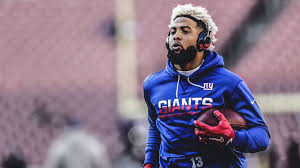 When I think of the wide receivers that have made the most impact on the NFL in such a short amount of time, three names come to my mind: Randy Moss, Terrell Owens, and Odell Beckham Jr. I know the last one's crazy because Beckham Jr. is still playing in the league and he's even on the front half of his career, but it makes sense. After all, we are talking about a guy who can take a three yard slant route and turn it into a sixty yard touchdown.
Antonio Brown or Julio Jones can do that too, of course, but over multiple occasions in the same season? No. Not to mention, Beckham Jr. took a slant route and made it into a touchdown that was over fifty yards against the Super Bowl winning Philadelphia Eagles, twice. Beckham Jr.'s first three years, statistically, were better than Jerry Rice's first three years. And that's saying something if Jerry Rice is considered the best wide receiver of all time and to some even the best player of all time.
With the ball in his hands, Beckham Jr. has got to be the most exciting and interesting player to watch play the game right now. He's not the best wide out in the NFL but definitely the most talented receiver in the league. This 2017-2018 season, he fractured his leg, leading him to only play three games. This next season, we'll see if he picks off where he left off, being one the best and most dominant wide receivers in the league, or if this injury has long-term effects.
Beckham Jr. is entering his fifth season in the NFL, as well as his last year in his rookie contract. Last pre-season, he threatened not to go to the mini-camps if the Giants didn't give him a contract extension. He did end up going, though reluctantly. One year later, Beckham Jr.  still doesn't have an extension, but he has showed up at every event and practice this offseason, whether mandatory or not. Giants safety Landon Collins stated a few days ago that, in the past year, Beckham Jr. has grown and developed "great maturity" since last year with his antics for the contract extension. Collins also said that Beckham Jr. has learned to put the team in front of himself and focuses strictly on football.
Odell has put his best foot forward. Along with better maturity, he is probably in the best physical and mental condition that he has been in his whole career, and as long as he doesn't get hurt and puts up the numbers of previous seasons, then there is nothing stopping the third best wide out in the league from becoming the best one in the league.