Shortstop prepares for the future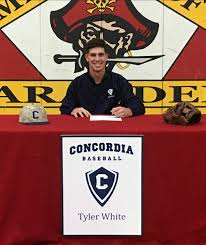 The Jesuit High School baseball team had a rough start to their 2017-2018 season, losing their very first four games. Yet, shortstop Tyler White '18 not only knew that the teams they lost to were high-ranking. He knew that his team could do better.
"I think we knew we weren't the 0-4 team we showed," said Tyler. "We knew that the other teams we played would not be [as] good [as the first teams]."
Sure enough, they soon went on a 13-0 winning streak! Tyler aided his team by telling them where to position themselves based on a batter's history. His skills helped a lot on the field and contributed to their winning streak. During games, Tyler would focus on defense, as he knew what his teammates should do during specific plays.
Tyler has put in a great amount of work to get where he is now. He took on baseball when he was a boy. His father saw how he loved the sport and encouraged him to pursue a baseball career. Furthermore, his father was a professional soccer player in Europe, so he knew the work that was involved in pursuing a serious career in sports. Following his dad's example, Tyler has been trying to live up to his own potential.
Upcoming fall, Tyler will be playing baseball at Concordia University of Portland, Oregon. Tyler is taking his Dad's advice and prepares by practicing over the summer.
"I'm working out, lifting, and trying to get faster," Tyler said. "so I can compete with the older guys."