Shortstop superstar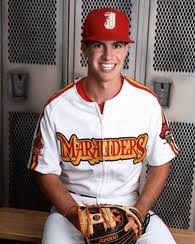 In the previous baseball season at Jesuit High School, the varsity team had some trouble. They started off with a record of zero wins and four losses. However, the starting shortstop for the team, Tyler White '18, always kept his faith that the team would start winning again, and that's exactly what they did. They won thirteen games in a row.
"In the moment, it didn't really feel like a lot of games . . . We just took it game by game," said Tyler. "And it was really fun because we took it easy at practice and we enjoyed our time while having fun . . . But when it came to the games, we took care of our business."
Tyler has always played shortstop for baseball. He loves to lead his teammates by navigating them around the field, as well making executive decisions throughout the game.
"I really like being in charge of the field," said Tyler. "I feel like I have a really good knowledge of what hitters tend to do."
And speaking of fields, Tyler also had to adapt to Jesuit's new ballpark that was built in the prior offseason. But the field, consisting of turf in the infield and regular grass in the outfield, has only improved Tyler's game.
"Because it is turf, you don't have to deal with the dirt or the grass being bumpy, so it is always going to be a good hop," said Tyler.
Tyler had a great last season. He only made four errors and set some of his career highs in stolen bases and fielding percentage. However, one of his highs happened in the regular last season game, where he had a spectacular play at shortstop.
"We were losing by a couple; there was a runner on second and third, [and] we were playing in with a big lefty up," said Tyler. "So I was on the grass, and he hit a really hard ball up the middle so I dove and I was in mid-air and I caught the ball."
He then got up and tried to turn the spectacular catch into a double play, though he wasn't successful. But Tyler stated that he still thought it was an amazing play and a great way to end the season.
Next season, Tyler looks forward to continuing his career at Concordia University in Portland, Oregon. And after such a comeback of a season, from losing their first four games and then going on a thirteen game winning streak, he is ready for anything.