Mexico's Breakthrough in the World Cup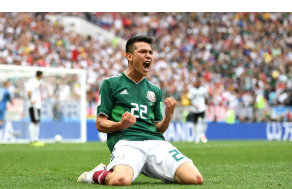 The ground is rumbling from an earthquake, but this is no ordinary earthquake. This earthquake is one of passion. When Hirving Lozano scored his beautiful goal in the 35th minute of the game against Germany, many hearts were broken while in Mexico, their hearts were lifted.
This is Mexico's breakthrough in the Russia 2018 World Cup. Mexico is in Group F, the group of death. Germany was thought to have a guaranteed first place standing in their group because they are the previous World Cup winners, but Mexico won't let them off the hook.
Mexico went in to the World Cup in a bad situation. They were most likely going to get second in their group with Germany at top, but Mexico pulled through and beat Germany 1-0. This was an amazing feat by itself, and on Saturday, Mexico beat South Korea 2-1. Two victories in the bag for Mexico.
Daniel said," Mexico will probably win the World Cup because they are very skilled and passionate."
"Mexico will not win the World Cup because Germany has a much better team than Mexico," said Dominic Parra
Former World Cup Winner Diego Maradona said,"I'm a supporter [of Mexico] already because they made this first round great. Mexico have shown that they could be able to beat Sweden, that they have the condition."
I'm guessing you probably think Mexico is qualified, but they're not. Mexico needs to beat Sweden or tie with them to advance. Even though they're not for sure in the World Cup, Mexico might be the underdog winner of the World Cup.