The New Dean in Town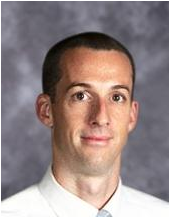 If you have ever seen Dean Tim Kelly, then you know he is important in the Jesuit community.
Dean Kelly is the Dean at Jesuit High School  in Sacramento, California . He became the new Dean in 2017. He likes being the Dean at  Jesuit High School because it is a good community.
After asking Dean Kelly what he likes about Jesuit and what he dislikes he said  "I like Jesuit because it educates the whole person. We care about everyone that goes to Jesuit. Jesuit also makes well rounded and polite gentlemen at Jesuit. He dislikes nothing about Jesuit" said Dean Kelly.
When we asked him about the cafeteria, he told us  "The cafeteria is reasonable – not overpriced for the amount of food they put out for the kids and it is all organic. The chef at the cafeteria  named Trang is always making new menus for the cafeteria."
"Becoming a Dean was not planned. When he heard  Dean Warren was leaving he just decided to become the Dean as his replacement",  said Dean Kelly.
Before he became the Dean he was a teacher at Jesuit and taught Social Studies (history).  He also coaches  basketball at Jesuit having just been named the Head Varsity coach.