The Jesuit Experience of Jack Draa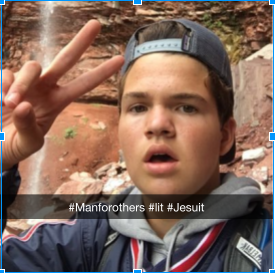 Have you gone through the full Jesuit experience? The man for others life cycle is one like no other! Jack Draa has seen it first hand.
When Jack decided to pick a high school, he chose Jesuit because of the community and the things he could do. Jack did things like joining the dive team, becoming a counselor for kids at Academics Plus during the summer, and then he graduated from Jesuit.
"Good," Jack said when being asked about his experience on the dive team. He said it's fun to do, "flips and stuff," as a sport.
The dive team was a fun experience for Jack, but school and learning was the priority for him.
"Jesuit has made me become a man for others," Jack said when asked about how Jesuit has changed him as a person for the better.  
As Jack got older his years at Jesuit were coming to an end. Jack started thinking about saving up money for college, so Jack signed up as an Academic's Plus counselor.
Over the summer Jack worked as a counselor for up and coming Marauders. Overall Jack had a unique experience you can only find at Jesuit High School.