Running towards success
In a sport that not many people follow closely, it is hard to make a name for yourself. Junior Sean Kurdy, one of Jesuit High School's cross country runners, is trying to do just that.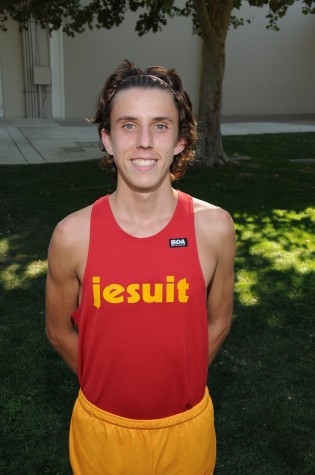 Sean is a remarkably talented runner for the Jesuit Marauder's Cross Country team. Along with his high hopes for the season, he personally has very high expectations for himself. "For my plans after Jesuit, I am planning on running at a Division 1 school.  My goal is to get into Stanford University and run on their Varsity team," Sean said.
Cross Country is a sport that emphasizes training and necessitates dedication. Sean excels in both aspects of the sport by thoroughly preparing for each event. "To prepare for a race, I generally do a pre-race run that is about half of the usual daily mileage, normally four to five miles. The night before I eat a meal with a lot of carbohydrates and protein and try to get a good amount of sleep," Sean said.
Training for cross country is not easy. Sean follows a strict training routine that keeps him in shape and ready for the next races.
"My training routine consists of running seven days a week with one race a week and one interval workout and one tempo run. Normally on Sundays, I run anywhere between 12 and 16 miles just to get a good endurance base in," Sean said.
Following such a demanding and rigorous training routine is standard for cross country runners like Sean.
Kurdy won his individual section title at Willow Hill which qualified him for the state meet on Saturday, Nov. 29. He capped of his stellar season by placing 5th at the state meet at Woodward Park in Fresno. His time of 15:18 is 2nd all time for Jesuit runners at the state meet.
Sean Kurdy has had a spectacular cross country season, and is hoping to get even better in his senior season.