A season cut short, a career still budding
May 1, 2020
With six graduates currently in professional baseball, Jesuit High School Sacramento has a reputation for producing some of the area's best baseball talent. That number could grow even larger this summer when Major League Baseball holds its annual First-Year Player Draft.
The latest in a long list of great baseball players to attend Jesuit, Daniel Susac '20 is a switch-hitting catcher who's ranked No. 67 among 2020 draft prospects by MLB.com. 
While getting drafted is a feat few achieve, Daniel wouldn't be the first in his family to do so.  
His brother, Andrew Susac '09, was taken in the 16th round out of high school, but decided to honor his commitment to Oregon State University. Andrew was picked in the second round after attending OSU, was a 2014 World Series Champion with the San Francisco Giants, and is now a catcher in the Pittsburgh Pirates organization. 
Daniel originally chose to follow in his brother's footsteps by committing to Oregon State, but on Fall Signing Day he signed a letter of intent to attend the University of Arizona instead. 
"The coaching staff played a huge role in going to Arizona," Daniel said. "It truly felt like a place where I know they want to get the best out of me."
While there are many similarities between the Susac brothers, Daniel accomplished something not even Andrew could at Jesuit. 
According to longtime Head Varsity Baseball Coach Joe Potulny '76, "Daniel is the second student-athlete since Jesuit opened to wear a varsity baseball uniform for 4 years."  Phil Cantelme '77 was the first.
Although it seems unlikely that Daniel could achieve something a World Series champion didn't, Jesuit Pitching Coach John Susac, Daniel's uncle, predicted he would be better than Andrew even before the 2020 draft prospect arrived at Jesuit. 
"[John] had maintained for many years that Daniel was better at each and every stage of development than his older brother Andrew and would be better when he got to Jesuit," Coach Potulny said. "I was skeptical. I couldn't fathom the comparison with Andrew, a major league player. Daniel was clearly ahead offensively. Even without his senior season, Daniel would be included in a discussion of the top offensive players at Jesuit during the past 30+ years."
Jesuit's 2020 season was cut short due to the COVID-19 outbreak, but in three regular-season games, Daniel still managed to hit .667 with a .727 on-base percentage, driving in 4 runs, and scoring 5 runs. Daniel's last high school hit would be a 2-run double that gave Jesuit a 2-0 lead in a win over nationally-ranked No. 1 De La Salle High School.
While his hitting ability is easily apparent, Daniel is also skilled defensively, a rarity for a high school catcher. His arm is considered a plus tool, graded a 60 on a 20-80 scale as his velocity from home plate to second is almost 90 mph with accuracy. 
This arm allows Daniel to throw out runners from his knees and served him well as the quarterback of Jesuit's football team that made it to the Sac-Joaquin Section Division II semifinal game this season.
Aside from having a plus arm, Daniel is also a skilled receiver who can make balls look like strikes according to his cousin Anthony 'Tonko' Susac '21, a pitcher for Jesuit.
"He's a very talented receiver and gets me lots of strikes with his pitch framing abilities," Tonko said. "When he catches, he makes me a better pitcher."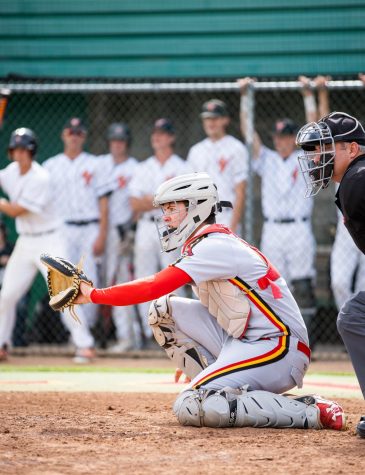 Having Daniel's talent takes hard work, and few work as hard as he does, especially when improving a weakness. 
"The only flaw entering this spring would have been his blocking skills," Coach Potulny said. "Daniel worked diligently since last summer to improve this aspect of his game. It was evident after just three contests this spring this aspect had improved significantly. No longer was it a shortcoming."
While many know Daniel for what he does on the field, his teammates appreciate who he is off the field as well.
"He's a great friend and teammate whether it be on the field, in the classroom, or just hanging out on the weekends," fellow catcher and friend Grant Flesher '20.
As the draft nears, it's unclear what the format will be due to the impact of the coronavirus. As of April 29, the date of the draft and how many rounds it will be are still unknown.
If drafted, Daniel will have to decide between playing college baseball like his brother or becoming a professional out of high school, a path chosen by Jesuit graduate and San Francisco Giants third baseman Zach Green '12. 
Regardless if he's playing professional baseball or for the University of Arizona next season, Daniel will certainly go down as one of the greatest baseball players to play for Jesuit.