Fulfillment in the water
Mr. Brian Nabeta, an Olympic Trials coach, has coached for Jesuit High School, Golden Bear Swim Club, Arden Hills, American River College, and DART Swimming in Sacramento. He himself has been competitively swimming since his elementary years.
He coaches the Jesuit Varsity team, and is very proud of his swimmers and wishes them the best as they leave for college.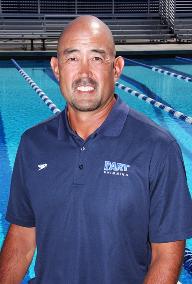 "I watch them leave the program as young adults, hopefully off to four year universities and colleges, that they leave a better person and a complete person," Mr. Nabeta said.
He chose to coach swimming 25 years ago because he wanted to inspire others and loved the passion of coaching.
His favorite but also most challenging thing about coaching is figuring out personalities and forming an atmosphere that's best for the students. But he said it's worth it because, "being a part of a team is a fulfilling item in your life."