Coaching a new culture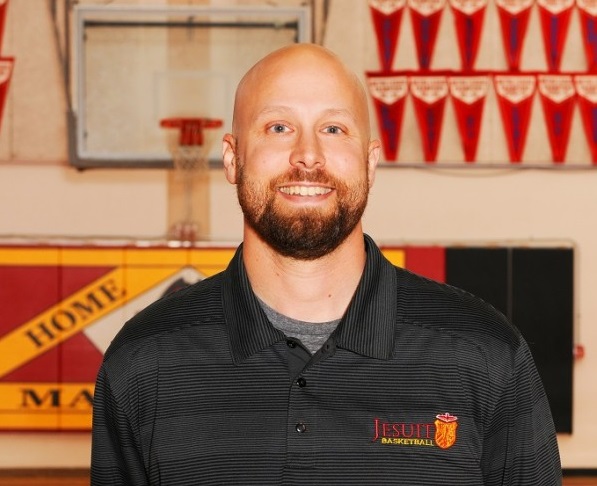 Coach Jon Rotz '92 was appointed head coach of Jesuit High School Varsity Basketball over the summer when Greg Harcos '89, the former head coach, became the Jesuit's Athletic Director.
Coach Rotz was an assistant coach to Coach Harcos from 2002-2008 and 2013-2015. Throughout both of his tenures as an assistant coach, Coach Rotz was mentored by Harcos.
"I've known Coach [Harcos] for a long time; we grew up together. He has helped me develop organizational skills, and taught me a lot about what it means to lead: working with players, parents, managers, and other coaches. He also let me be hands on [as a coach], and gave me freedom to learn and make mistakes and he has provided years of support," said Coach Rotz.
The coaching transition has been smooth because Coach Rotz has instilled positive values and habits within the team, such as thanking teammates, managers, and other coaches everyday. The players have responded well to Rotz's efforts, creating a strong bond.
"The team chemistry is like having 15 brothers, everyone gets along. This team is by far the closest team I have ever been with. We all want to play for each other, which makes us so hard to play against, and has helped us through a lot of adversity this year," said Forward Chris Simpson '18.
With a roster flooded with young talent and the support of a lively Galley Crew, Coach Rotz has refreshed Marauder basketball, bringing in a new era.
"Since day one, Coach Rotz has been talking about the Jesuit basketball culture," said Mario De Leon '16. "I feel we have a good group of guys that are capable of obtaining Coach Rotz's vision for the Jesuit basketball culture."
As the season comes to a close, the Marauders hope their team culture helps them make a deep run in the CIF playoffs.