3 years in the making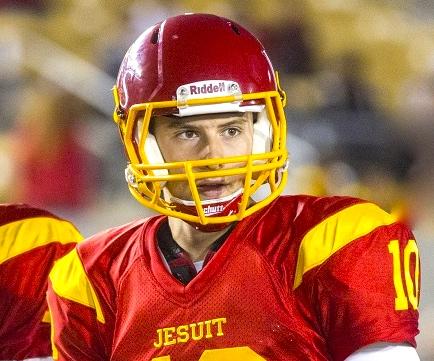 After three years in the making, varsity quarterback Cole Brownholtz '15 steps onto the scene, ready for the upcoming season. Football has become second nature for Cole, and the build up has been quite the journey.
"Coming in freshman year I started off the season hot, but dropped off the second half of the seasons and we ended 5-5. JV year our goal was undefeated, and through hard work we achieved that goal, and I had the best season I had ever had," said Cole when asked about his first two years playing for Jesuit.
However, after an astounding undefeated season for Junior Varsity, Cole came into the varsity squad as a backup quarterback. He would play behind Jason Ellenberger '14 for the entire year.
"Last year it was tough backing up," said Cole. "But while sitting behind a quarterback like Jason, I learned a lot and that has prepared me for this year."
With all eyes on him, Cole preps the team for this year's football season. Jesuit has always been notorious for its close games. After last year's crushing defeat to Folsom, Cole and the rest of the team set high goals for this year.
"We started in January and everybody on the team has been putting in work and doing their part. And come August 29th we'll be ready for the season, and chase our goal for a section championship," said Cole.