Jesuit football defeats Monte Vista 51-20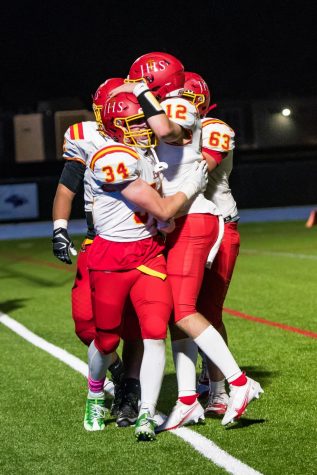 Looking to even up their record at 2-2, the Jesuit High School Sacramento Marauders defeated the Monte Vista High School Mustangs in a football game on Saturday, April 10.
The final score was 51-20, Jesuit's largest margin of victory this season. The Marauders were dominant defensively — shutting down Monte Vista's rushing attack — holding Mustangs senior running back Gavin Crib to 31 yards on 12 carries. 
Monte Vista had a little more success with the passing game as Mustangs junior quarterback Dyllan Devitt threw for almost 300 yards and two touchdowns, but was also picked off twice. 
A major contributor in Jesuit's win was wide receiver and defensive back Roman Canaan '21. He made several huge plays including a touchdown catch and an interception. 
Despite his outstanding performance on both sides of the ball, Roman credits his teammates, particularly lineman Josef Mokofisi '23 for some big-time blocks and quarterback Preston Vukovich '22 for his quality passes. 
"The game against Monte Vista was the first real week that our whole team was really dialed in and the scoreboard showed that," Roman said. "From Joe's pancakes to Preston's dimes our whole team was locked in."
Running back Ace Saca '21 attributes a lot of the team's success to staying in control throughout the game.
"We played good against Monte Vista," Ace said. "We were in control the whole game and never let them get back in it when we got the lead."           
While the varsity team was originally scheduled to play Davis Senior High School this week, Jesuit will now host Vista Del Lago High School due to Davis not having enough healthy players. 
This game will be the final one of the season and will take place at Jesuit on Saturday, April 17, at 1:30 p.m.