On the field, in the classroom, as the president
May 7, 2020
A standout leader, athlete, and student at Jesuit High School Sacramento, Cole Barrett '20 is hard to miss.
After being his class president as a freshman, sophomore, and junior, Cole is now the executive council president, a job that oversees the entire student body. 
While most student and executive council elections are popularity contests with the winners often having the most friends, Cole remembers just wanting to make friends when he ran for class president as a freshman. 
"I wanted to become president my freshman year to help make friends," Cole said. "Turns out I really liked being a part of the student council, and [it] gave me a really great opportunity to meet so many people."
With the COVID-19 outbreak eliminating the possibility of a traditional graduation in the near future, Cole and the rest of the executive council are doing their best to honor the seniors.
"The main thing the executive council is focused on right now is the senior video," Cole said. "With all of our other events canceled, the best thing we can do is give our class a memorable video that makes us proud of our four years here."
Cole's desire to help his fellow seniors isn't surprising to Student Activities Director Mr. Tim Kelly.
"Cole genuinely cares about Jesuit High School and the students," Mr. Kelly said. "He has a deep appreciation for helping to make Jesuit a great place for all of the students."
Aside from being a leader on campus, Cole is a force on the soccer field. Cole played for Jesuit for three years and was on varsity as a sophomore and junior. Cole decided to play for the U19 Sacramento Republic soccer team as a senior. 
According to longtime Head Varsity Soccer Coach Paul Rose, Cole brought the same leadership he displayed as president to soccer. 
"Cole was a natural-born leader even during his junior year," Coach Rose said. "He would always do what was best for the team. He led by example and words. Everyone respected him. For me, it was like having another assistant coach."
On Fall Signing Day, Cole signed to continue his soccer career at Saint Mary's College of California.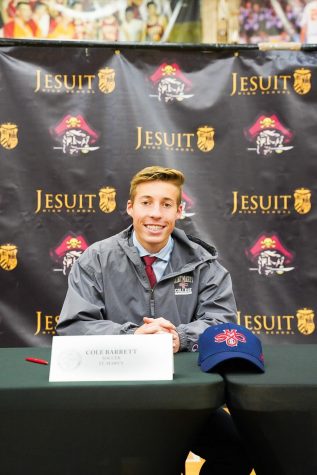 "I chose Saint Mary's particularly for the close-knit classes and the top-10 nationally-ranked Division I soccer program," Cole said.  
It makes sense that Cole would factor education into his college decision as he was a stellar student according to Ms. Jennifer Borasi who taught Cole in American Lit & Composition. 
"Cole stood out because he was a leader in my American Lit class last year," Ms. Borasi said. "He often took the initiative to help out other students who needed some extra guidance, and he set a positive example for others by engaging in the class activities and contributing insightful comments to seminars."
Whether he's serving as president, playing soccer, or seeking a deeper understanding in the classroom, Cole brings his leadership and desire to help others everywhere he goes.