Toasters, Robots, and Whimsy
When he first joined the Black Box, Josh Clark '19 was a rather shy freshman with a knack for building and experimenting. Josh, unlike Scott Tooley '18 [see page 8], left little impact during his first show.
"I remember joining because it was something fun and new to me," Josh said. "I had never been involved in theater before high school, but I had seen many shows with my family growing up. I was a shy and new freshman, and I liked to build things, so theater tech it was […] I vaguely remember 'Terror Stories: A 9/11 Project' to be honest, and I often regard 'Xanadu' as my first show."
Even with his slow introduction to the Black Box, Josh began to come out of his shell and become more involved in Jesuit Drama. He grew more comfortable around the other students and began to display his own infectious sort of whimsy, eventually being required to have a maximum pun limit.  
"There is always someone like Josh attracted to the theater," Mr. Trafton said. "Someone who, for instance, is the kid who liked to take apart the toaster and turn it into a robot; someone who liked to weaponize the vacuum cleaner; someone who thinks imaginatively about engineering and machines and fixtures, all sorts of things. He was just interested in what made things tick. And he brought that natural ability to us."
These unique attributes were what eventually led Josh into the role of stage manager for "Isaiah Says" during the fall of his junior year.
And during the production of "Isaiah Says," Josh and Scott tackled that rain problem. . . .
"Scott had the idea to have the rain for 'Isaiah Says,'" Mr. Ed Trafton '84, theater director said. "We were talking about the set, and we were throwing around some ideas. And he just mentioned, 'Wouldn't it be fun if we could make it rain?' and [I remember] we had this great moment where I just joked and said 'Do not say that to me unless you're serious because if you are serious, I'll structure the whole arc of the play around that happening.'"
At first, the whole idea of having rain on the stage was absolute lunacy. The idea eve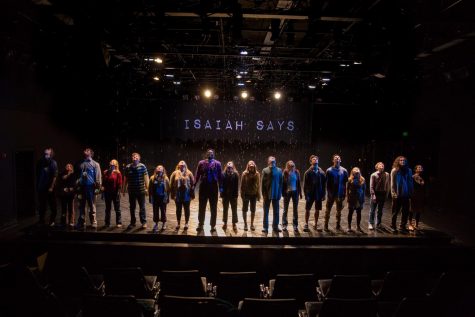 n made Mr. Trafton pause for a moment. Somehow, these two stage managers developed a system that made it rain on stage.
Dubbed the "Raininator 5000" by Josh, the mechanism consisted of a pipe that was raised above the front part of the stage and used a series of pumps and well-placed holes that allowed the water to drip from the pipe in a rain-like manner. The entire project was just barely finished in time for dress rehearsals for "Isaiah Says."
"Josh was my go-to guy when creating the rain effect for 'Isaiah Says,'" Scott said. "We had our fair share of bad designs that led to some pretty fun times drying off the lighting equipment and especially the floor. The 'Raininator' was certainly temperamental, but I think that's what made it so fun to work on. We never knew what would happen next. Each show, we would be on the intercom together praying for the rain to drop at the correct time, and I'd say it did."
Following "Isaiah Says," Scott and Josh continued to work together for "Willy Wonka" in the following spring. Josh was the production stage manager, and he continued in that role throughout his senior year with "We Need Some Light" being his final show in the Black Box.
Upon graduating from Jesuit, Josh plans on attending Southern Oregon University, where he hopes to continue spreading his passion for theater.
"It was a great honor to become a stage manager connecting every part of drama together and making things happen," Josh said. "I remember seeing stage managers my freshman and sophomore years working hard on everything in all parts of drama. It was a tedious, difficult, mind-numbing, blood-sweat-and-tears inducing, ravenously fun job that looked like an incredible time. And it was and always has been."
The legacy that Scott and Josh left on Jesuit Drama was a series of unique and increasingly memorable productions that set new standards for creativity, student involvement, and innovation as well as establishing a culture of skill-filled leadership.