Dance Policy Steps Forward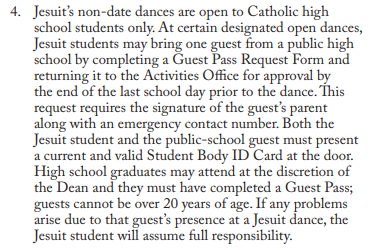 Jesuit High School is a community that has always aimed at being welcoming to all students.  
With this goal in mind, the All Love Alliance (ALA) requested a one-word change to the Jesuit dance policy.
Before this year, the Jesuit dance policy stated that a student can bring one female guest to a dance. In May of 2018, the ALA requested that Jesuit remove the word female and leave it as "one guest" or "a guest."
"The language wasn't very inclusive, and it made people feel uncomfortable, especially those in our community who didn't want to bring a female guest, so they asked respectfully that we may change the language, and we happily did so," said Principal Michael Wood '99.
The request was accepted and has been implemented since the beginning of the school year. Garrett Simpson '19, co-president of the ALA, sums up the concerns the ALA has had and how the policy is a step in the right direction.
"We just felt that in the world we live in now, it was something we should change as a student body," Garrett said.
Joey Crespo '19 adds on to this idea and explains that the policy change follows the Jesuit philosophy of caring for others.
"I'm happy the school is finally making this change to the school dance policy as it is extending the ideal of inclusion to people of any sexual orientation," Joey said. "We have been taught to be considerate of people as 'men for others,' and now those teachings are being backed up with actions."
Due to the change in the Jesuit dance policy, students can take any guest, regardless of their gender, to dances. The change in policy was a huge step forward in making Jesuit High School a more inclusive and understanding community.