Open to growth
Jesuit High School's "Graduation Outcomes" lists as it's first aim that a Jesuit graduate will be "Open to Growth" in all facets of his life. One such grad, Matt Condrin '18, provides an excellent example of this virtue.
Every day after school, Matthew drives to Lake Natoma. On top of the regular six hour school day, he spends three and a half hours at rowing practice. Matt devotes his afternoons and Saturday mornings to the Capital Crew Junior Rowing Program at the Sacramento State Aquatic Center with high schoolers from across Sacramento.
In just two years, Matt's commitment and athleticism has earned him a spot at the University of Washington, a top university in the Intercollegiate Rowing Association.
Additionally, he was recently selected to potentially represent the USA as a part of the US Rowing Junior National Team at the World Championships in Plovdiv, Bulgaria. These vast accomplishments were something he never imagined possible when first walking into Grace Court as a Freshman.
"As a Freshman, I saw myself as a two sport athlete, playing both soccer and baseball all of my four years of high school," said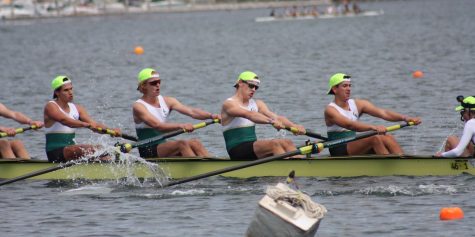 Matt. "Obviously this wasn't how it worked out, and that is a big lesson I have learned."
During his Freshman year, Matt was a devoted teammate on Jesuit's JV Soccer and Freshman Baseball Teams. Not until later, when he began struggling in both sports did Matt consider finding a new athletic passion.
"I got cut from the soccer team my Sophomore year, and I was not performing to my best in baseball," said Matt. "Finding success in rowing allowed me to truly thrive and be passionate about participating in sports again."
Today, Matt brings the brotherhood from Jesuit into the team camaraderie on Capital Crew. As a member of Capital Crew's top Varsity 8+, he offers discipline and an affirmative energy to the team. His characteristics are especially valuable in a sport which favors a team that can row and work together.
"Rowing rewards those who are willing to put the team above the individual and push themselves really hard on a daily basis," said Capital Crew Varsity Men's Coach Ben Hise. "Matt has been a standout since day one. He came in and was ready to step up and lead […] he has worked to develop his skills in order to bring Capital to the next level."
Matt is not the first Marauder to find a passion in a racing shell. Tyler Valicenti '14 is currently rowing at Princeton University as a member of their Men's Lightweight Team. Like Matt, Tyler was a member of Jesuit baseball. After the fall ball season his Sophomore year, a friend persuaded Tyler to give rowing a try. For the remaining three years of high school, Tyler was a devoted member and captain of Capital Crew, an experience that later carried him to the collegiate level.
"I fell in love with the sport immediately," said Tyler. "After my free two weeks expired, I talked to my parents, thought critically about the role of baseball in my life, and ultimately made the decision to remain on the rowing team. Seven years later, and I am about to finish my last season as a rower at Princeton. I would not have changed a thing."
Tyler spent much of his co-curricular time rowing. While this took away his participation in Jesuit athletics, he sought alternatives to foster his Jesuit involvement.
"Rather than focusing on athletics at school, I chose to use my free time to focus on my other interests," said Tyler. "I joined the Italian heritage club and the Latin club, and, with my peers, started a rowing and a beach volleyball club. I also remained involved with Jesuit through my various classes and through the spiritual life."
During his time at Jesuit, Tyler balanced his time and priorities between academics and rowing outside of school. Nonetheless, facets of rowing and a Jesuit education have shaped him into the man he is today.
"The most prominent similarity between being a student at Jesuit and a member of a rowing team is the strong sense of camaraderie," said Tyler.  "Fostering a sense of camaraderie on a rowing team is easy, for there is little opportunity to operate as an individual."
Both Matt and Tyler exemplify what it means to be open to finding new growth in unexpected places. Their openness to a unique sport like rowing has fostered their growth, teaching them how to work as a team.