Saving lives, one pint at a time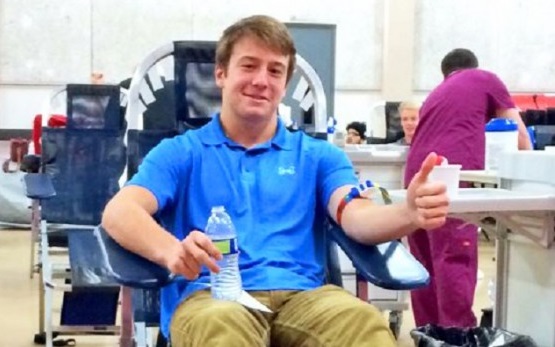 January 11th marked Jesuit High School's 15th annual BloodSource Blood Drive, a popular, charitable campus event. The student body raised a collective 108 pints for the greater Sacramento area, accounting for more blood raised than each of the last four years.
The blood drive serves as an excellent way for students to make a unique and purposeful contribution to those who are in need of an essential donation. What is most compelling, though, is the positive attitude of students who made the small sacrifice. They are glad to have made such a meaningful contribution.
"I've seen how much the blood can help and I wanted to be a part of that,"said Casey Bravo '17. "The workers are very careful, and made the process smooth. It was almost painless, and the benefits for someone else are too great not to give blood."
The drive was hosted through BloodSource, a non-profit organization established in 1948, and since then has provided a safe, reliable blood supply to over 40 hospitals in the Northern California region. At Blood Source, they continue their mission and live out their philosophy "to provide blood and services to those in need."
"I thought it would be a cool way to really help people. I felt I accomplished something worthwhile and I plan to do it again" said first-time donor Michael Shea '17.
Whether it be for a cancer patient or an accident victim, the blood drive is a simple, yet life-saving opportunity that Jesuit holds each year, and hopefully the number of donors continues to grow.