Runs in the family
After a long off-season, senior Joe Deterding could not wait to get back on the pitch.
Playing since his sophomore year, the 5'10" standout Wing decided to give rugby a try after playing baseball during his freshman year.
"It was new for me, but I thought it looked fun," said Joe.
Joe's knack for physicality and unrelenting aggression during games may have simply come from genetics.
"My family has a history in the game, but I always thought that baseball was the sport for me, until I decided to go out for the rugby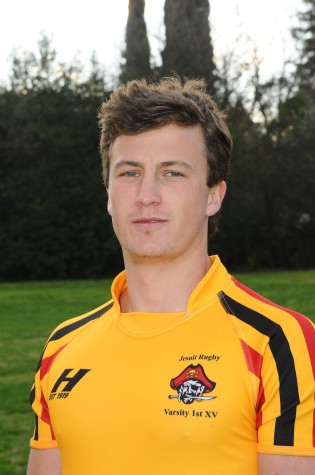 team.  My dad, who played in college, and my cousin Jeremy, who won a couple national championships at University of California, Berkeley, inspired me to give it a shot," said Joe.
Now in his third and final year of playing rugby at Jesuit High School, Joe is making every second on the field count.  With his eyes set on the final goal of another national championship, he will leave everything on the field in order to make that memory become reality once again.
Jesuit has always had a competitive sports program and the school takes pride in achieving athletic excellence.  Rugby has been no exception.
After a historic past couple of seasons, the team fell just short last season.
"Last year was awesome.  We went undefeated until the national championship game, but we were a really good team and I learned a lot.  We lost in that game last year but only by 1 point.  Our opponent was the first team all year to even have a lead on us at any point in a game.  This year we are ranked #1 in the nation and we certainly are looking forward to our chance to avenge last year's team and their heartbreaking loss last May in North Carolina," said Joe.
Varsity Head Coach John Shorey, has been very impressed with Joe and thinks that the team has a good chance of competing for the national championship again.
"Joe is a very smart rugby player who has a very quick first step that can beat the defense.  He is an excellent defender.  Our goal is to win our 9th national championship.  This team has the talent to win it all and we are getting better every game.  We are still a work in progress but I am confident that we will reach our goal as we believe in each other and are willing to work hard," said Coach Shorey.
Joe's teammate, senior Nolan Sheehan, thinks that Joe is a vital part to the success of the team.
"He's a good leader in practice.  In games he plays wing or center, so he's a good tackler and in that way, helps the defense.  He also has great ball skills and is a good runner in the open field and can create space," said Nolan.
Joe plans to continue his rugby experience by playing at the University of Arizona, carrying on the exceptional career that he started as a Marauder.  And with his eyes set on the dream of another national championship, it is difficult to believe that he and his team will achieve anything less.