Remembering the forgotten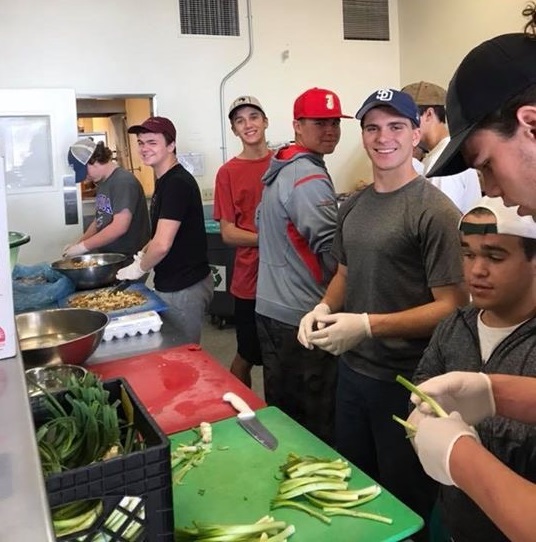 I didn't know what to expect serving at Dorothy's Place in Salinas, Calif.
When I began the immersion application process, I'd heard so much about the different immersions. Friends and teachers told me of bonfire songs at Camp Recreation, community dinners in Guatemala, and tough days of cleaning grime with toothbrushes in the wake of Hurricane Sandy.
My immersion group included eight rising seniors as well as former Designated Prefect Mr. Vincent Fleming '02 and Counselor Ms. Jennifer Rasmussen. On the first day, we all met at Jesuit High School in the morning and headed off to Salinas, a pretty town just east of Monterey Bay, Calif. In our two vans, we brought piles of clothes and toiletries to donate to Dorothy's Place.
Dorothy's Place is a welfare and charity-driven facility in Chinatown, a run-down community in Salinas that harbors hundreds of the homeless' tents along its streets. We mostly served in the organization's soup kitchen, providing food every morning and afternoon for four days. We also prepared meals and served all who came through the doors of the kitchen.
The individuals we met struggled with a variety of challenges including drug addiction, immigration, and homelessness. During my service experience, I realized not only my misconceptions towards homelessness but also how I can help those dealing with it.
The individuals we served were incredible. They inspired us through their generosity, sharing their scarce resources with anyone who was in need.
The process of escaping the hole of substance addiction is almost impossible, especially when the addicted can't afford expensive rehabilitation facilities. We saw firsthand how the disabled and mentally ill members of our communities are cruelly cast aside. Every person we served could easily be in a better situation if they have access to better medical care, rehabilitation facilities, necessary medication, and financial guidance.
It was a week to remember. Our entire group grew closer together through our shared labor.
On our immersion, we got to help people who are too often pushed to the margins and forgotten while also learning about ourselves and how easy it is to be blinded to the injustices we don't take time to understand. The Salinas Immersion enabled me to help others and understand the daily challenges too many Americans face.