Dedicated leader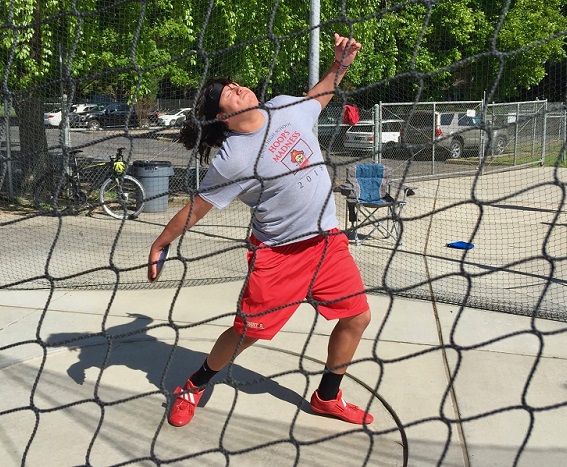 Sebastian Garcia '18 has participated in Jesuit High School's Track and Field program since his Freshman year. The 6'7" athlete has broken many records and has elevated Jesuit to contend for a Section title this year.
Before attending Jesuit, Sebastian played football his whole life. It wasn't until freshman year that Sebastian decided to try something new and participate in track and field.  
"I wanted to try something new, and since the throwing coach was so passionate on having me on the team and how I would be a great thrower, I chose track and field," said Sebastian.
But Sebastian wasn't completely sure of his decision. Luckily, his Freshman Track and Field coach, Mr. David Badovinac, helped him.
"I was definitely skeptical; I had never thrown before and didn't know what to expect," said Sebastian. "Thankfully, my Freshman coach was one of the best in California and gave me a solid foundation of technique and confidence."
Many of his teammates have noticed his serene attitude during meets. Some, such as friend and teammate Josh Gillis '18, have seen the impact of Sebastian's tranquil mood.
"Sebastian has always been a good friend to everyone on the team and myself," said Josh. "He's also very calm, which is nice when everyone else is strung up. Even at big meets like Arcadia, he is always relaxed and focused."
When Coach Huitt first coached Sebastian, he noticed his dedication and leadership.
"Being our throw team captain, Sebastian is probably the most dedicated varsity member," said Coach Huitt. "He is here almost every single day. If he is hurt or not, he is here learning, always trying to improve himself and his teammates. He is a great leader, and all the kids look up to him and enjoy his company."
Sebastian's skills have carried him to pivotal meets. His skills have awarded him many achievements, including breaking several records.
"My greatest achievements in track and field are going to the Junior Olympics in Kansas City (2017), state leader in the 10 lb shot put my Sophomore year, tied for fourth all-time Jesuit for discus, shot put personal best of 52 feet, and discus personal best of 176 feet, 10 inches," said Sebastian.
Sebastian plans to pursue track and field at the collegiate level. His notable achievements have greatly contributed to Jesuit's league standing and inspired many of those who have participated in Track and Field at Jesuit.