The food behind the kitchen
Most students have tried the food in the cafeteria, but only a small percent knows what goes on behind the scenes.
In the morning, the workers from Epicurean Ca- tering Compa- ny wake up at 5:30 a.m. and head to the Jesuit kitchen to make break- fast for the summer school students. The food is usually ready by 7:30- 8:00 a.m.
Vincent Moralez, Executive Sous working in the kitchen. "There are some complications,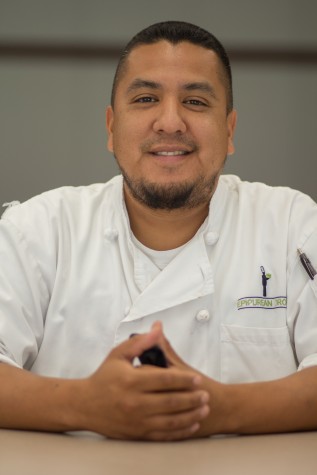 some unforeseen problems, but overall it's fun," said Chef Moralez.
Chef Moralez has been working in the kitchen since he was 17 years old. He was a former Sous Chef at Piatti for two years and worked at the Nordstrom Cafe for about three years.
"I always encourage everyone in the kitchen to taste their food so that they know when their food is done, if it's too spicy, or if it's not spicy enough," said Chef Moralez
Thanks to the kitchen staff all of the meals made in the Jesuit kitchen are made from fresh ingredients: no frozen pizza or burritos. Overall, all the food is made fresh daily.
So next time you buy a breakfast or lunch in the Jesuit cafeteria, remember the work that was put into making that meal.