Brotherhood under the lights
June 24, 2015
The Black Box Theater provides students with opportunities and experiences that are truly unique to Jesuit High School.
Not only does Jesuit Drama produce entertaining plays and musicals, but it also nurtures creativity, creates long lasting relationships, and encourages students to follow their passion in theater.
AJ Randhawa '15 has enjoyed his four years of participating in the Black Box's productions. His experiences in Jesuit Drama have influenced him to pursue creative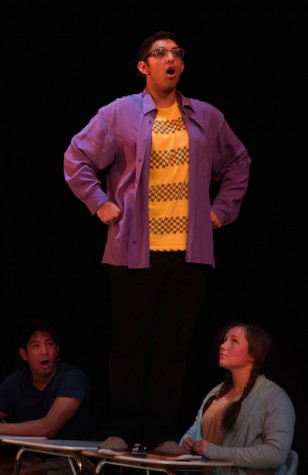 writing in college.
"The environment seems much more open and friendly, and each person, regardless of who they are, has a say and a voice in the process," AJ said.
Not only did the Black Box provide an environment for his creativity to thrive, but it also gave AJ the opportunity to build lasting friendships.
"I still keep in touch with a lot of Black Box alums. One of the things I enjoy most about the Black Box as opposed to other theaters is how close the cast gets,"  AJ said.
Many Jesuit alumni continuing to pursue theater, attribute their interest in acting to their experience with the Black Box.
Jesuit alumnus Mr. Riley O'Toole '10 will graduate this spring from the University of Minnesota/Guthrie Theater Bachelor of Fine Arts Actor Training Program with a bachelors of fine arts in acting. He attributes his desire to pursue this degree to his time spent working in the Black Box.
"You could say JHS Drama has influenced everything I've done since leaving. […] I got enough inspiration from JHS Drama to move me to a snowy hell [Minnesota]," Mr. O'Toole said.
The Black Box also allowed Mr. O'Toole to form strong and lasting friendships with his castmates that remain to this day.
"I'm as close with the people from the Black Box as I am with anyone else in my life. Those relationships are untouchable," Mr. O'Toole said.
Black Box actors not only study theater in high school and college, but many pursue careers as successful professional actors. Alumnus Mr. Chris Sullivan '98, for example, has been quite successful as an actor, not only in the theater but also on screen. He recently starred in NBC's "Peter Pan Live," voiced the Geico "Hump Day!" camel, and has appeared in numerous other productions, such as Broadway's Nice Work If You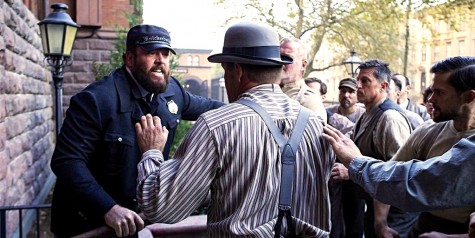 Can Get It, Lombardi, Chicago the Musical, and Cinemax's The Knick.
Mr. Sullivan attributes much of his success from his time with Jesuit Drama's Artistic Director Mr. Ed Trafton in Jesuit productions.
"There is not a day that goes by in a rehearsal room or on a stage, where I am not actively employing the the things I learned from him [Mr. Trafton]," Mr. Sullivan said.
To this day, the friendships that Mr. Sullivan made as a high school thespian remain strong. When he first moved to New York, he and his wife stayed with a Jesuit Drama alum for eight months. Even alumni in distant cities stay in close contact through social media.
Although there are only four years in which Jesuit students may perform in Black Box productions, their experiences and relationships remain with them for years. The Black Box not only leaves alumni with terrific memories, but it also sends them off with inspiration to pursue their dreams.