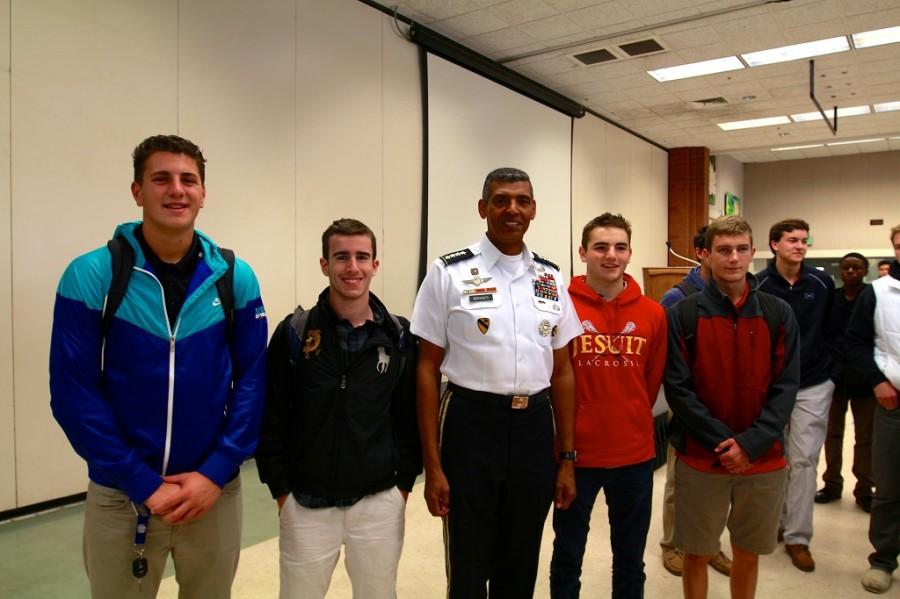 Ravindu Ranatunga|Plank
The motto "Man for Others" is often shown through seemingly unattainable examples such as the saints or Jesus. While many students understand the message, the reality of the situation seems impossible. This changed on Nov. 19 when General Vincent Brooks returned to his alma mater to show what a life dedicated to the service of others truly looks like.
General Brooks, a four star general in the United States Army, did not present himself as the imposing military man that many had imagined. With a big smile and his old letterman jacket on, he looked more like a basketball coach than a general. During his first time returning to Jesuit High School since graduating in 1976, General Brooks spoke to the senior class about how his time at Jesuit shaped him to be the man he is today.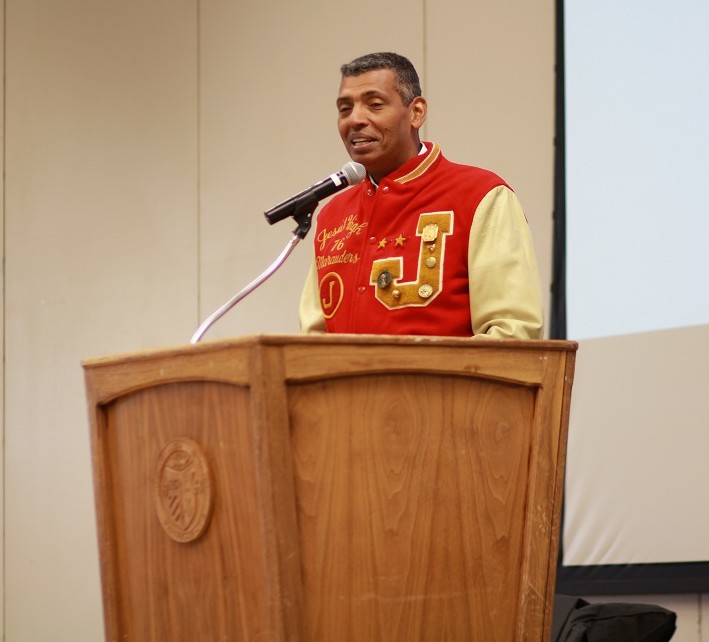 "When I arrived at West Point, I saw how well Jesuit had prepared me for college and then for my career in the military," said General Brooks.
He spoke candidly about his high school life, focusing on the intense academic rigor, the "connectiveness" of the Jesuit community, and the importance of the Ignatian tradition of service. General Brooks credits Jesuit with giving him the tools needed to succeed at West Point. The only regret held by General Brooks
about his time at Jesuit is not staying in contact with his friends from the basketball team.
"It was really interesting to see the path that General Brooks took and how he used his lessons from Jesuit in his career," said senior Evan Defazio.
Despite coming from a military family, General Brooks initially rebelled against the military to pursue a career in medicine. That dream eventually became a career in military medicine, and finally to the military itself. General Brooks said that the military is more than just a job to him, it is his calling.
General Brooks attended West Point in the class of 1980 while playing basketball under current Duke coach Mike Krzyzewski. However, due to poor grades, General Brooks made the decision to drop the basketball team his sophomore year. This decision was one of hardest of his life according to the general, but it allowed him to improve his grades and become the highest ranked cadet at West Point.
"Coach K could have yelled at me and called me ungrateful, but he supported my decision, and that's what it means to be a leader," said General Brooks.
After rising to the highest level in West Point, General Brooks went on to become one of only 13 four-star generals currently in the United States Military.  Even after more than 30 years in the armed forces, General Brooks does not believe his service to the world is over.
"As long as you have life and breath, you have something to do," said General Brooks.